Tango Beach Festival and Marathon
sunseabeachtango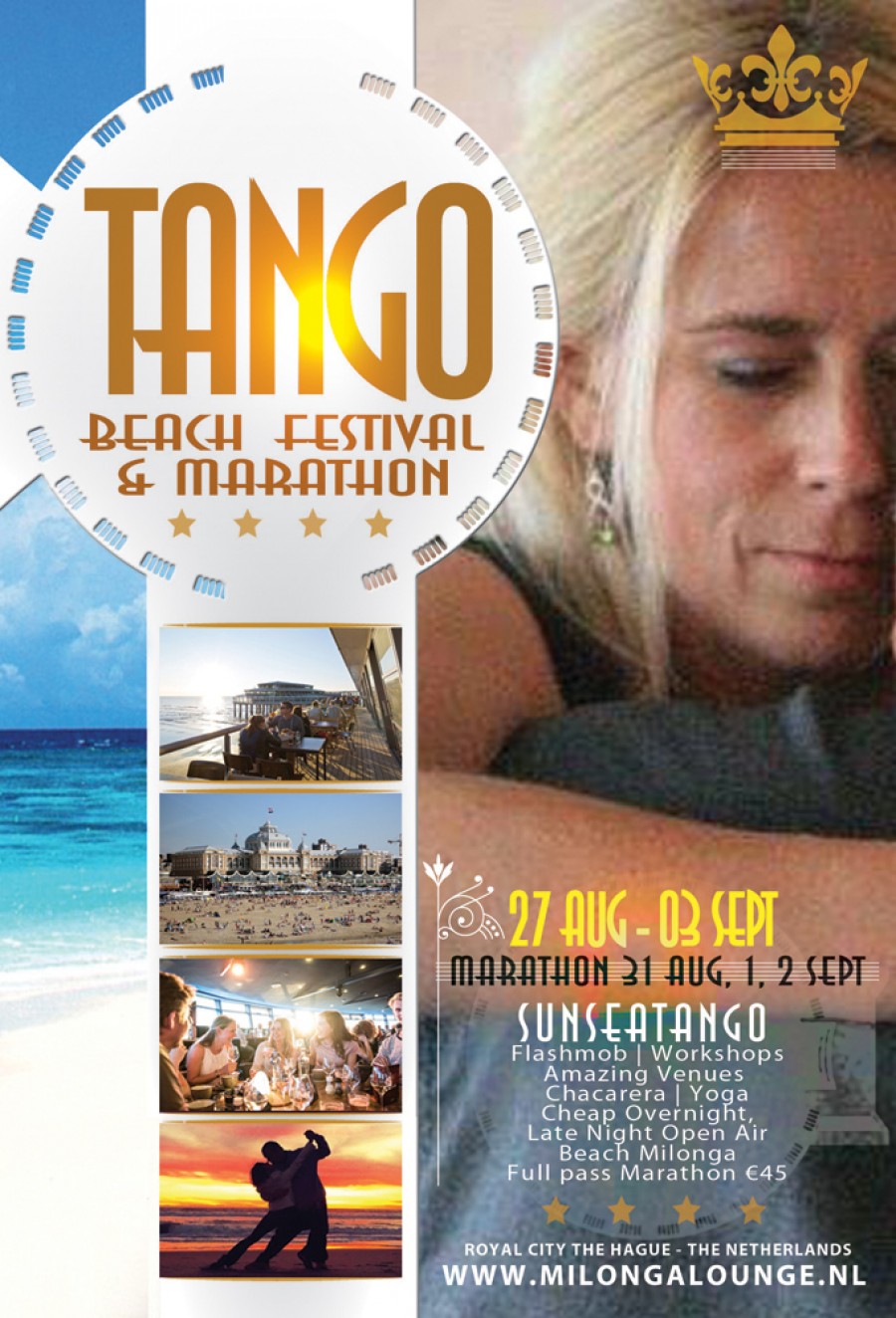 SAVE THE DATE!
Tango Community is proud to announce the 1st edition of Tango Beach Festival & Marathon 2018 in The Hague, The Netherlands.
Come, share unforgettable traditional tandas with us and meet friends from all over the world.

Festival
27 aug - 3 sept

Marathon
31 aug, 1, 2 sept

Registration Marathon: April 15, 2018

... beach flashmob, indoor/open air workshops, 40hrs+ indoor tango marathon, delicious food, massage, chacarera, yoga, open air midnight dancing by the sea, sunset terrace dancing, choreo bootcamp, Ladies technique bootcamp, 
you name it, we are working on it to make this summer super romantic and unforgettable.

*Meet new friends you otherwise never would meet!
---
EVENT DETAILS
Location:

Amsterdam, Netherlands (view map)

Event dates:

From: Friday, 31 August 2018 - To: Sunday, 02 September 2018

Location:

Amsterdam, Netherlands (view map)

Event dates:

Event Starts: Friday, 31 August 2018
Event Ends: Sunday, 02 September 2018

Number of Participants:

300 dancers

Number of Participants:

300 dancers

Is registration required prior to the event?

Recommended - Tickets might be available at the door

Registration Opens:

Sunday, 15 April 2018

Registration Closes:

Wednesday, 15 August 2018

Is registration required prior to the event?

Recommended - Tickets might be available at the door

Registration Opens:

Sunday, 15 April 2018

Registration Closes:

Wednesday, 15 August 2018

Accommodation:

Yes

Beverages:

Yes

Transfer:

No

Massage:

Yes

Accommodation:

Yes

Beverages:

Yes

Transfer:

No

Massage:

Yes

Website:

Facebook:

Website:

Facebook:
---
EVENT ORGANISER

Map
Amsterdam, Netherlands
Pin icons from Medialoot
---
---
Questions? - Leave a Comment
Go back