Chamuyeros Tango Marathon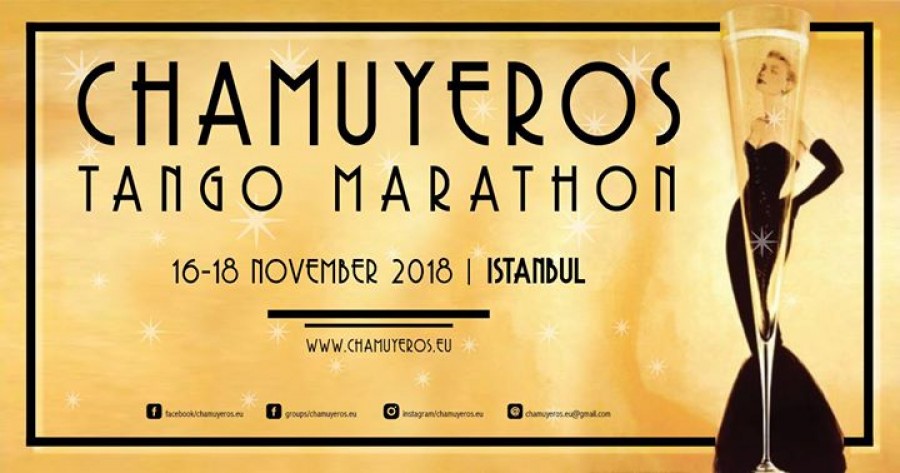 CHAMUYEROS TANGO MARATHON
by Janos Biscar, Oana Danzer, Gabriele Sabato & Ralph Nasi

What is Chamuyeros?
---------------------
Chamuyero (noun. plural chamuyeros) charmer, is someone who frequently uses sweet tactics and adulation to impress women or men. The word is frequently used in the Tango World as someone who says nice things and uses sweet words during the milonga to impress and make the women or men feel good about themselves.

Chamuyeros Tango Marathon will take this concept of making each other feeling well to create a tango event to the highest quality possible by brining the glamour of the Tango and Istanbul together to make you experience the best of Tango in Istanbul.

CHAMUYEROS TANGO MARATHON
by Janos Biscar, Oana Danzer, Gabriele Sabato & Ralph Nasi

What is Chamuyeros?
---------------------
Chamuyero (noun. plural chamuyeros) charmer, is someone who frequently uses sweet tactics and adulation to impress women or men. The word is frequently used in the Tango World as someone who says nice things and uses sweet words during the milonga to impress and make the women or men feel good about themselves.

Chamuyeros Tango Marathon will take this concept of making each other feeling well to create a tango event to the highest quality possible by brining the glamour of the Tango and Istanbul together to make you experience the best of Tango in Istanbul.

​The marathon will be limited to 230 Tangueros* and combine the most glamours venue in the natural marvel of Bosphorus with some of the best Tango DJs in the World and make you experience Tango with its elegance, mystery, connection, feelings & sensations by creating great milongas and a party environment.

The DJ Team
-------------
Karolina Tkazcuk (Poland)
Jose Almar (Argentina)
Alexandra Kotelnitskaya (Ukraine)
Gabriele Sabato (Italy)
Lucas Gauto (Argentina)
Ralph Nasi (Turkey)


Continue Reading
Collapse text
---
EVENT DETAILS
Location:

Istanbul, Turkey

Event dates:

From: Thursday, 15 November 2018 - To: Sunday, 18 November 2018

Location:

Istanbul, Turkey

Event dates:

Event Starts: Thursday, 15 November 2018
Event Ends: Sunday, 18 November 2018
---
---
Questions? - Leave a Comment
Go back