Adoracion Tango Marathon - Istanbul
May is the most adorable time of istanbul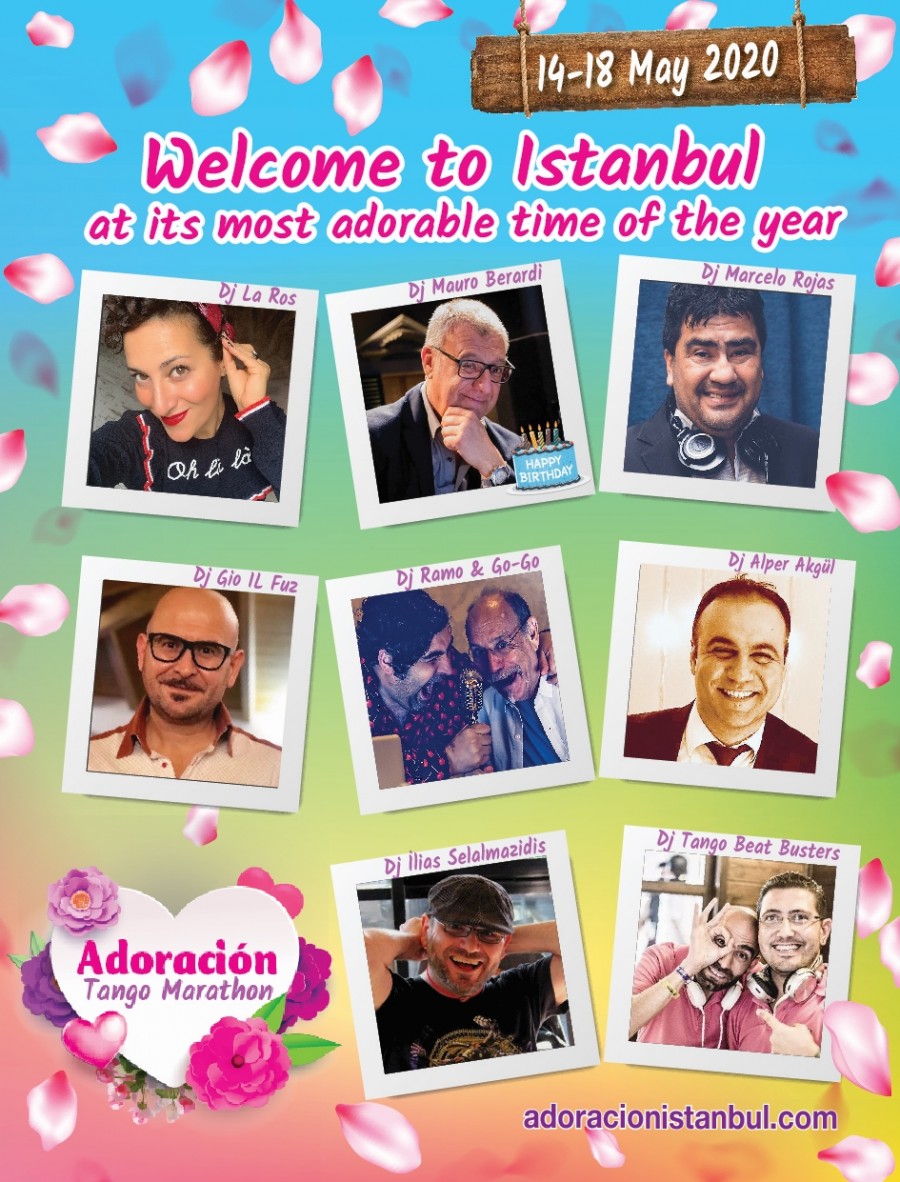 This wonderful period of blooming flowers is one of many reasons why we want to welcome you to Istanbul in May. What brings us together is not only this fantastic city, it's also the pleasure of quality dancing, beautiful music, sharing unique moments and spending a magnificent time at one of the most adorable cities. We invite you to Adoración Tango Marathon.

What you need to know:
It is a gender balanced Events and space for 250 dancers from all over the World.

Our DJ cast who will take care of an unforgettable atmosphere:
* La Ros Capasso (Italy) (who will by the way delight us the last time ever as a DJ with her powerful music!)
* Mauro Berardi (Italy) ( We will celebrate his birthday )
* Giò il Fuz (Italy)
* Marcelo Rojas (Argentina)
* Ilias Selalmazidis (Greece)
* Ramo & Go - Go (Turkey)
* Alper Akgül (Turkey)
* Tango Beat Busters (Turkey)

This wonderful period of blooming flowers is one of many reasons why we want to welcome you to Istanbul in May. What brings us together is not only this fantastic city, it's also the pleasure of quality dancing, beautiful music, sharing unique moments and spending a magnificent time at one of the most adorable cities. We invite you to Adoración Tango Marathon.

What you need to know:
It is a gender balanced Events and space for 250 dancers from all over the World.

Our DJ cast who will take care of an unforgettable atmosphere:
* La Ros Capasso (Italy) (who will by the way delight us the last time ever as a DJ with her powerful music!)
* Mauro Berardi (Italy) ( We will celebrate his birthday )
* Giò il Fuz (Italy)
* Marcelo Rojas (Argentina)
* Ilias Selalmazidis (Greece)
* Ramo & Go - Go (Turkey)
* Alper Akgül (Turkey)
* Tango Beat Busters (Turkey)

Adoración will take place at Dedeman Gayrettepe Hotel, already known as the Venue for our Festival in November, Sultans of Istanbul. Accomodations there are also available.
Continue Reading
Collapse text
---
EVENT DETAILS
Location:

İstanbul, Turkey (view map)

Event dates:

From: Thursday, 14 May 2020 - To: Monday, 18 May 2020

Location:

İstanbul, Turkey (view map)

Event dates:

Event Starts: Thursday, 14 May 2020
Event Ends: Monday, 18 May 2020

Number of Participants:

300 dancers

Number of Participants:

300 dancers

Is registration required prior to the event?

Required - No tickets at the door

Registration Opens:

Thursday, 09 January 2020

Registration Closes:

Wednesday, 13 May 2020

Is registration required prior to the event?

Required - No tickets at the door

Registration Opens:

Thursday, 09 January 2020

Registration Closes:

Wednesday, 13 May 2020

Accommodation:

Yes

Beverages:

Yes

Transfer:

Yes

Massage:

Yes

Accommodation:

Yes

Beverages:

Yes

Transfer:

Yes

Massage:

Yes

Website:

Facebook:

Website:

Facebook:
---
EVENT ORGANISER
More from Sultans of Istanbul:
Map
İstanbul, Turkey
Pin icons from Medialoot
---
---
Questions? - Leave a Comment
Go back