World of Tango Festival Workshops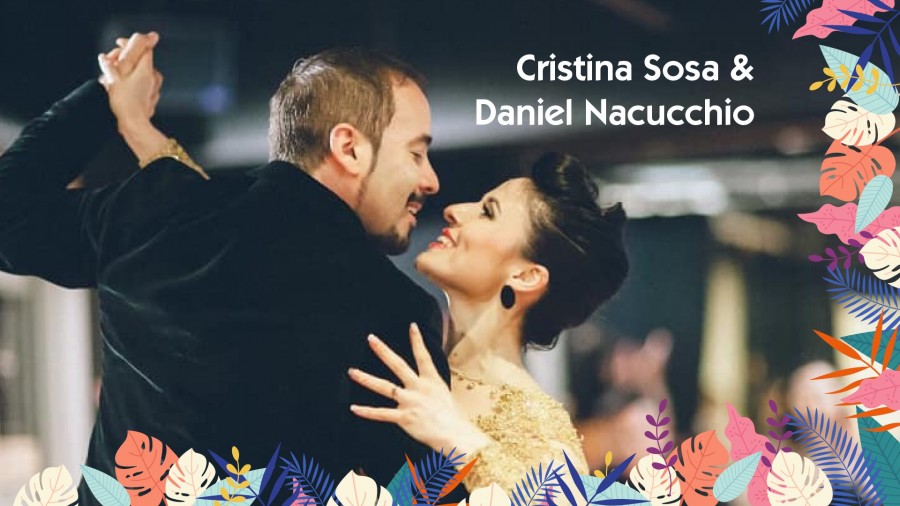 Welcome to Argentine tango workshops of World of Tango Festival 2019 with a dazzling and much-awaited guest maestro couple

★ CRISTINA SOSA & DANIEL NACUCCHIO (AR) ★

Cristina and Daniel won the Tango Salón World Championship in 2008 and are admired all over the world for their virtuosity, for the way they combine traditional tango salón with the energy of stage tango and for their outstanding pedagogy. You will love them, too!

Program

FRIDAY 13.9.
18.30−20.00hs Personal technique: Preparing the body for dancing tango. Foot exercises, posture and a review of ochos and giros. -No partner needed-

SATURDAY 14.9.
12.00−13.30hs Caminata ('tango walk'): Different kinds of walks, how and where to use them, their relationship with the embrace.
14.00−15.30hs Elegance: Masculinity and femininity in the dance. Efficiency with minimum effort.
Welcome to Argentine tango workshops of World of Tango Festival 2019 with a dazzling and much-awaited guest maestro couple

★ CRISTINA SOSA & DANIEL NACUCCHIO (AR) ★

Cristina and Daniel won the Tango Salón World Championship in 2008 and are admired all over the world for their virtuosity, for the way they combine traditional tango salón with the energy of stage tango and for their outstanding pedagogy. You will love them, too!

Program

FRIDAY 13.9.
18.30−20.00hs Personal technique: Preparing the body for dancing tango. Foot exercises, posture and a review of ochos and giros. -No partner needed-

SATURDAY 14.9.
12.00−13.30hs Caminata ('tango walk'): Different kinds of walks, how and where to use them, their relationship with the embrace.
14.00−15.30hs Elegance: Masculinity and femininity in the dance. Efficiency with minimum effort.
16.00−17.30hs Sequences: Milongueros' famous sequences with details. Historical references.

SUNDAY 15.9.
12.15−13.45hs Di Sarli: Elegance, details and sequences with embellishments for interpreting the music of Di Sarli. General concepts of the orchestra at the service of the dance.
14.00−15.30hs D'Arienzo: Power, speed and pausing with D'Arienzo's orchestra.
16.00−17.30hs Pugliese: Slow and fast movements applying features of Pugliese's orchestra.

VENUE
Tullintori shopping center, Tullikatu 6, Tampere, Finland

PRICE
25 €/workshop/person

The workshops need to be paid in advance, according to the information given in the confirmation mail. For participants living in Finland, the membership of either Tango aMoroso or Amigos del Tango is required.

REGISTRATION / ILMOITTAUTUMINEN
Registration starts on July 24th and is open as long as there are free spots available, max 15 couples/workshop. Having a partner is necessary for participation, except for the technique lesson on Friday. Registering without a partner is possible, but participation will only be confirmed if a partner is found. No partner rotation during the classes.

ORGANIZER
Tango aMoroso in cooperation with Amigos del Tango and World of Tango Festival
CONTACT INFO
tangoamoroso@gmail.com /+358 50 5831 789
www.tangoamoroso.fi
www.maailmantango.net
Continue Reading
Collapse text
---
EVENT DETAILS
Location:

Tullikatu 6, Tampere, Finland (view map)

Event dates:

From: Friday, 13 September 2019 - To: Sunday, 15 September 2019

Location:

Tullikatu 6, Tampere, Finland (view map)

Event dates:

Event Starts: Friday, 13 September 2019
Event Ends: Sunday, 15 September 2019

Is registration required prior to the event?

Required - No tickets at the door

Registration Opens:

Wednesday, 24 July 2019

Registration Closes:

Sunday, 08 September 2019

Is registration required prior to the event?

Required - No tickets at the door

Registration Opens:

Wednesday, 24 July 2019

Registration Closes:

Sunday, 08 September 2019

Accommodation:

No

Beverages:

No

Transfer:

No

Massage:

No

Accommodation:

No

Beverages:

No

Transfer:

No

Massage:

No
---
EVENT ORGANISER
World of Tango Festival is an international culture festival that takes place in the city of Tampere, Finland. The festival is held every year in September. World of Tango Festival is not only about tango but there can be heard also other styles of urban folk music such as jazz, chanson and fado. During this festival the audience can enjoy real tango art concerts and also see movies, participate on tango lessons and milongas, visit art exhibitions and poetry evenings. The World of Tango Festival was held the first time in 2007. Web pages: www.worldoftango.net
More from World of Tango Festival:
---
Map
Tullikatu 6, Tampere, Finland
Pin icons from Medialoot
---
---
Questions? - Leave a Comment
Go back