Tenerife Tango Meeting 2020
The festival where you feel at home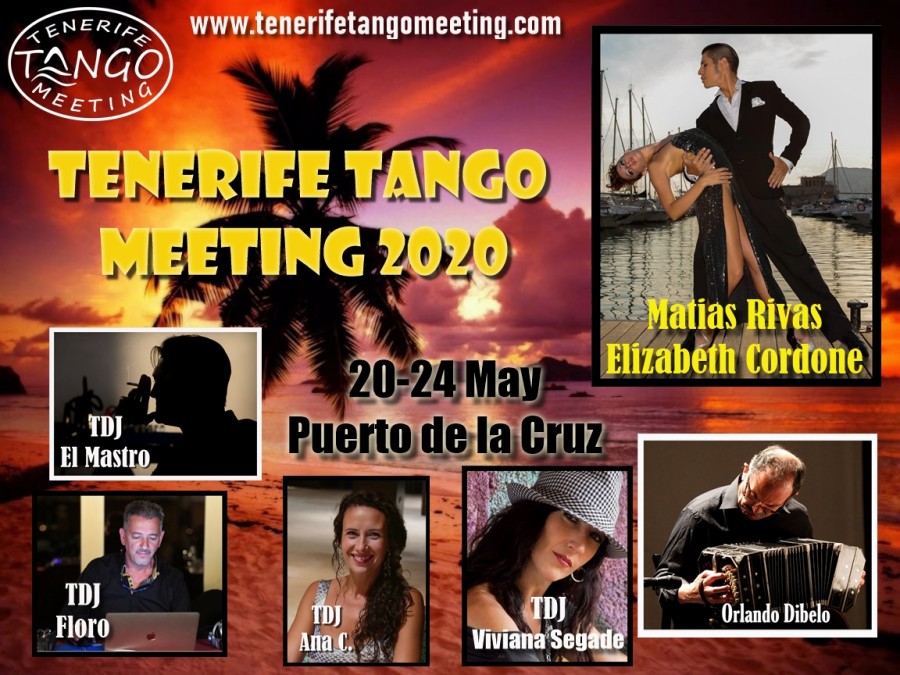 If you are looking for a huge festival with "big stars", a crowded dancefloor with hundreds of dancers, classes with dozens of participants, huge stands of shoes, dresses, trousers, jewellery, T-shirts, massages, milongas in a swimming pool, etc., etc... you will be very disappointed, I'm sorry.

But, if you are looking for an intimate festival, with professional maestros and DJs, live music with one of the best bandoneonist of Europe, a limited number of participants in the milongas (to enjoy plenty of space to dance) and classes (for the best possible learning experience), a friendly and warm atmosphere to truly meet and share with the other participants, the festival organizers and all the artists, all this in a wonderful and sunny island...
Well, stop looking, that's exactly what we're proposing.

Tenerife Tango Meeting: the festival where you really feel at home. 
---
EVENT DETAILS
Location:

Avenida Venezuela, 15, Puerto de la Cruz, Spain (view map)

Event dates:

From: Wednesday, 20 May 2020 - To: Sunday, 24 May 2020

Location:

Avenida Venezuela, 15, Puerto de la Cruz, Spain (view map)

Event dates:

Event Starts: Wednesday, 20 May 2020
Event Ends: Sunday, 24 May 2020

Number of Participants:

180 dancers

Milonguero Ticket Price - Includes all milongas:

85 EUR - Euro Member Countries

Number of Participants:

180 dancers

Milonguero Ticket Price - Includes all milongas:

85 EUR - Euro Member Countries

Is registration required prior to the event?

Required - No tickets at the door

Registration Opens:

Wednesday, 15 May 2019

Registration Closes:

Friday, 15 May 2020

Is registration required prior to the event?

Required - No tickets at the door

Registration Opens:

Wednesday, 15 May 2019

Registration Closes:

Friday, 15 May 2020

Accommodation:

Yes

Beverages:

No

Transfer:

No

Massage:

No

Accommodation:

Yes

Beverages:

No

Transfer:

No

Massage:

No

Website:

Facebook:

Website:

Facebook:
---
EVENT ORGANISER
---
Map
Avenida Venezuela, 15, Puerto de la Cruz, Spain
Pin icons from Medialoot
---
---
Questions? - Leave a Comment
Go back