Boulder Tango Festival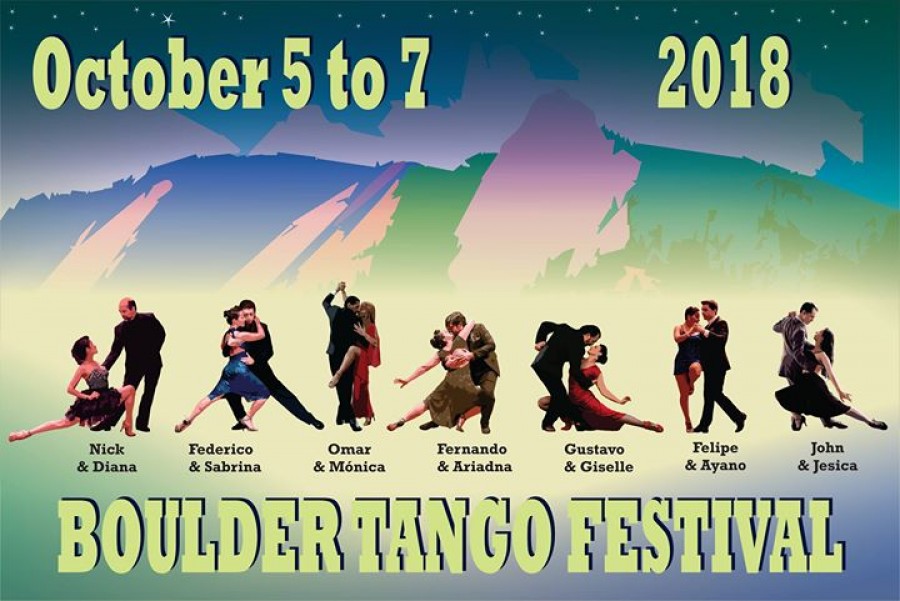 FEATURING THIS YEAR AT BTF 2018

-Federico Naveira & Sabrina Masso
-Ariadna Naveira & Fernando Sanchez
- Monica Romero & Omar Ocampo
-Nick Jones & Diana Cruz
-John Miller & Jessica Cutler
-Felipe Martinez & Ayano Yoneda
-Gustavo Naveira & Giselle Anne

EVENTS:
• Workshops: by 6 couples of teachers - 30 classes of 1hour & half - partner is NOT required, but recommended.
• Free Beginner class: Saturday, by invited instructor .
• Practica: Thursday
• 3 Milongas: Friday, Saturday & Sunday nights .
• Tango Demonstrations at the milongas by the teachers
• Folk Dance Demonstration: at the closing Milonga by the teachers and a spectacular performance by Los Ocampo.

EXTRAS:
• Argentine Wine, Mate and Food specialties: tasting at the closing Milonga, served by the teachers.
• Vendors at the milongas: tango shoes and clothes.

FEATURING THIS YEAR AT BTF 2018

-Federico Naveira & Sabrina Masso
-Ariadna Naveira & Fernando Sanchez
- Monica Romero & Omar Ocampo
-Nick Jones & Diana Cruz
-John Miller & Jessica Cutler
-Felipe Martinez & Ayano Yoneda
-Gustavo Naveira & Giselle Anne

EVENTS:
• Workshops: by 6 couples of teachers - 30 classes of 1hour & half - partner is NOT required, but recommended.
• Free Beginner class: Saturday, by invited instructor .
• Practica: Thursday
• 3 Milongas: Friday, Saturday & Sunday nights .
• Tango Demonstrations at the milongas by the teachers
• Folk Dance Demonstration: at the closing Milonga by the teachers and a spectacular performance by Los Ocampo.

EXTRAS:
• Argentine Wine, Mate and Food specialties: tasting at the closing Milonga, served by the teachers.
• Vendors at the milongas: tango shoes and clothes.


PLACE:
The event will be held mainly at the Avalon Ballroom & Boulder Tango Studio:
6185 Arapahoe Av, Boulder CO 80303


Continue Reading
Collapse text
---
EVENT DETAILS
Location:

Boulder, United States

Event dates:

From: Friday, 05 October 2018 - To: Sunday, 07 October 2018

Location:

Boulder, United States

Event dates:

Event Starts: Friday, 05 October 2018
Event Ends: Sunday, 07 October 2018
---
---
Questions? - Leave a Comment
Go back