A Night of Tango with Alejandro Pinzon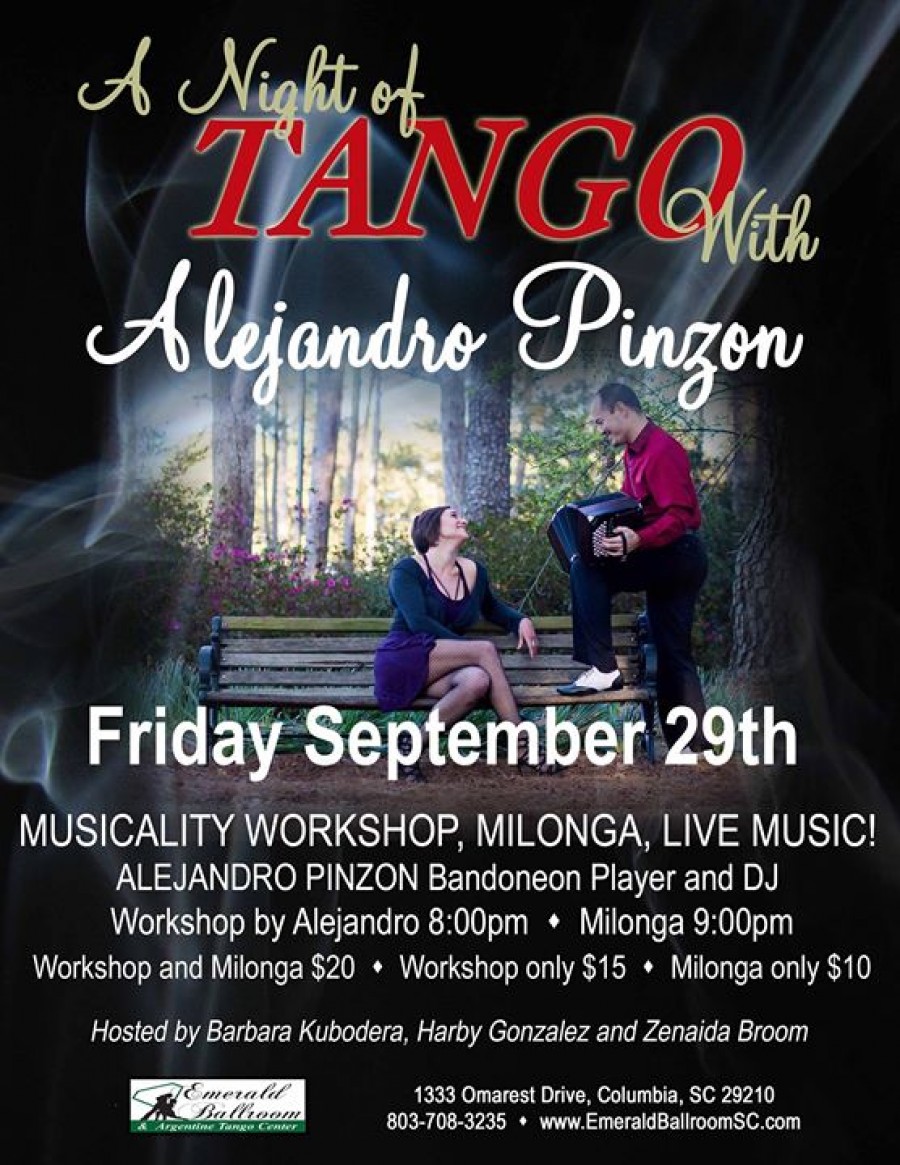 Join us at Emerald Ballroom for a Night of Tango with Alejandro Pinzon!

MUSICALITY WORKSHOP, MILONGA, LIVE MUSIC!
ALEJANDRO PINZON Bandoneon Player and DJ

Musicality Workshop by Alejandro 8:00pm
Milonga 9:00pm - 1:00am

Workshop and Milonga $20
Workshop only $15
Milonga only $10

Purchase tickets at the link below:
https://www.eventbrite.com/e/a-night-of-tango-with-alejandro-pinzon-tickets-37567786260

Hosted by Barbara Kubodera, Harby Gonzalez and Zenaida Broom

Emerald Ballroom
1333 Omarest Drive, Columbia, SC 29210

For more information call 803-530-2774.
---
EVENT DETAILS
Location:

1333 Omarest Dr, Columbia, United States (view map)

Event dates:

From: Friday, 29 September 2017 - To: Saturday, 30 September 2017

Location:

1333 Omarest Dr, Columbia, United States (view map)

Event dates:

Event Starts: Friday, 29 September 2017
Event Ends: Saturday, 30 September 2017

Number of Participants:

100 dancers

Milonguero Ticket Price - Includes all milongas:

20.00 USD - United States Dollar

Number of Participants:

100 dancers

Milonguero Ticket Price - Includes all milongas:

20.00 USD - United States Dollar

Is registration required prior to the event?

Not required - Tickets at the door

Registration Opens:

Saturday, 02 September 2017

Registration Closes:

Friday, 29 September 2017

Is registration required prior to the event?

Not required - Tickets at the door

Registration Opens:

Saturday, 02 September 2017

Registration Closes:

Friday, 29 September 2017

Beverages:

Yes

Beverages:

Yes
---
EVENT ORGANISER
Map
1333 Omarest Dr, Columbia, United States
Pin icons from Medialoot
---
---
Questions? - Leave a Comment
Go back